SYNTHESIS OF PYRIDINE DERIVATIVE POLYMERIC COPPER COMPLEX WITH METAL-AZID BONDS

Abstract views: 12 /

PDF downloads: 4
Keywords:
Polymeric metal complexes, pyridine complexes, azide compounds.
Abstract
In this study, pyridine-derived polymeric copper (II) complexes containing metal azide bonds were prepared. The characterization of the complexes given with the general formula, [Cu(L)2(N3)2Cl2]n (L1: 3,5-dimethyl pyridine, L2: 3,4- dimethyl pyridine, L3: 2-amino-3-methyl pyridine, L4: 2,6-diamino pyridine) was performed by FT-IR, AAS and magnetic susceptibility analyzes. The intense peak observed at 2045-2167 cm-1 in the spectra corresponds to the asymmetric azide vibrations, υas(N3 - ), which indicates that polymeric copper complexes are formed over azide bonds. Cu2+ amounts in the complexes were found in the range of 26.25%-33.61% from the AAS results. The thermal properties of polymeric copper complexes were investigated with the TG/DTA combined system. Unpaired electron numbers for copper complexes were found in the range of 0.89-1.45. Copper complexes are paramagnetic, and the number of unpaired electrons being different from the expected (n=1) value indicates that the geometry of the complex is distorted.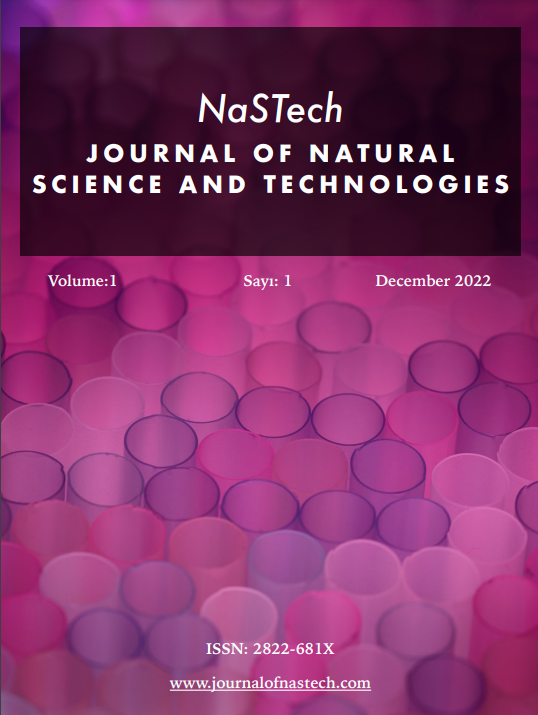 Downloads
How to Cite
EMEN, F. M., & DEMİRDÖĞEN, R. E. (2023). SYNTHESIS OF PYRIDINE DERIVATIVE POLYMERIC COPPER COMPLEX WITH METAL-AZID BONDS. Journal of Natural Sciences and Technologies, 1(1), 143–150. Retrieved from https://journalofnastech.com/index.php/pub/article/view/16
License
This work is licensed under a Creative Commons Attribution 4.0 International License.