MANUFACTURING AND CHARACTERIZATION OF ALUMINUMBASED POROUS MATERIALS: PHYSICAL PROPERTIES AND MECHANICALBEHAVIOR

Abstract views: 8 /

PDF downloads: 7
Keywords:
porous aluminum material, blowing agent (TiH2), pore characteristics, compression strength
Abstract
Porous aluminum samples were manufactured by  powder metallurgy method. In the powder metallurgy method, pure Al 99 % powder (< 44μm) and TiH2 powder of two different sizes (< 44 μm and 1-3 μm) were mixed at different volume fractions. All the porous samples were subjected to a compression test and characterized by electrical conductivity, hardness and specific heat capacity measurements according to the porosity observed by image analysis. It was determined that compression strength is decreased by the percentage of total pore area in the section. The specific heat capacity values of the porous material are increased slowly by TiH2 size, pore number and pore area. The electrical conductivity of the porous material has a decreasing trend dependent on the percentage of TiH2.
References
Anthony, G. E., John, W. H., Michael, F. A., 1998. Cellular metals, Curr. Opin. Solid St. M. 3, 288-302.
Chen, F., He, DP., 1999. Metal foams and porous metal structures. In: Banhart J, Ashby M.F, Fleck NA, (Eds.). Int. Conference, Bremen, Germany, 14-16 June, MIT Press-Verlag p.163.
Chin, Y., Harald, H. E., John, B., Joachim, B., 1998. Metal foaming by a powder metallurgy method: Production, properties and applications, Mater. Res. Innov. 2, 181-188.
Doretea, C., Luigino, F., Livan, F., Fabrizio M., 2006. Forming of aluminum foam sandwich panels: Numerical simulations and experimental tests, J. Mater. Process. Technol. 177, 364-367.
Douglas, T. Q., Yosuke, K., Haydn, N.G.W., 2004. Synthesis of stochastic open cell Ni-based foams, Synthesis of stochastic open cell Ni-based foams, Scripta Mater. 50, 313–317.
Enrique, M.C., Carlo, M., 2009. Processing of brass open-cell foam by silica-gel beads replication, J. Mater. Process. Technol. 209, 4958-4962.
Erik, A., Wiebke, S., Lorna, J.G., 1999. Compressive and tensile behaviour of aluminum foams, Mat. Sci. Eng. A-Struct. 270, 113-124.
Hans, P. D., Brigitte, K., 2002. Handbook of Cellular Metals, Production, Processing and Applications, Wiley-VCH, ISBN 3-527-29320-5.
John, B., 2000. Manufacturing routes for metallic foams, JOM Journal of the Minerals, Metals and Materials Society, 52, 12, 22-27.
Ken-ichiro, M., Hikaru, N., 2010. Cold repeated forming of compact for aluminium foam, J. Mater. Process. Technol. 210, 1580-1586.
Lorna, J. G., Michael, F. A., 1997. Cellular Solids, Second Ed., Cambridge Solid State Science Series, ISBN 0-521-49560-1.
Luis, E.G.C, Ruiz, R., Corpas, F.A, Ruiz, P., 2009. Manufacturing of Al-Mg-Si alloy foam using calcium carbonate as foaming agent, J. Mater. Process. Technol. 209, 1803-1809.
Masanori, S. I., Kozo, O., Ryo, M., 2010. Fabrication of aluminium foams from powder by hot extrusion and foaming, J. Mater. Process. Technol. 210, 1203-1208.
Remy, G., Jean-P., B., Georgette, R-P., Emilie, C., et al. ,2009. Separation of particles from hot gases using metallic foams, J. Mater. Process. Technol. 209, 3859-3868.
Thilo, B., Joerg, B., Hans, W.B., 2001. Mechanical properties of structures of semifinished products joined to aluminum foams, J. Mater. Process. Technol. 115, 20-24.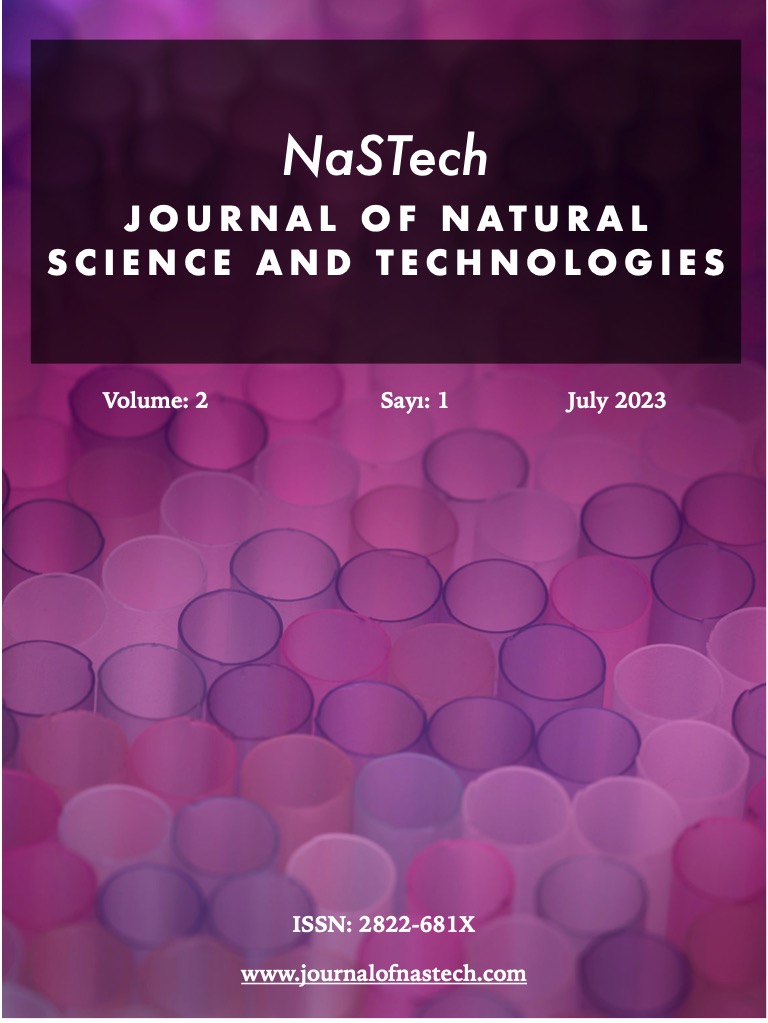 Downloads
How to Cite
OGAN, A. D. (2023). MANUFACTURING AND CHARACTERIZATION OF ALUMINUMBASED POROUS MATERIALS: PHYSICAL PROPERTIES AND MECHANICALBEHAVIOR. Journal of Natural Sciences and Technologies, 2(1), 195–208. https://doi.org/10.5281/zenodo.8103391
License
Copyright (c) 2023 Journal of Natural Sciences and Technologies
This work is licensed under a Creative Commons Attribution 4.0 International License.